Cost Savings
Without doubt, Pipebursting is one of the most economical ways to replace a buried pipeline. The direct costs are generally lower than the traditional dig-and-replace method, but when time, disruption, and restoration costs are added in, Pipe bursting is far less expensive. 
Over 6000 Miles in Use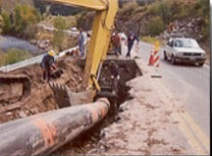 Cities all across North America are using Pipebursting to maintain or improve their pipeline systems. The Pipebursting process was developed and patented by British Gas to solve their own replacement needs and, since then, over 6,000 miles of pipe – both mainlines and service laterals – have been replaced worldwide using the technology. 
Wide Choice of Materials
With Pipebursting, you have a wide choice of replacement materials. Polyethylene, PVC, glass fiber, and many types of metal pipes have all been used successfully. Regardless of the materials you choose, you will have the assurance that it has been manufactured to strict national standards such as AGA, API, ASTM, AND AWWA. Your new pipeline will have known physical properties and an established service life. With Pipebursting, you do not have to worry about field chemistry or the stress of reducing or reshaping pipe. You get the material that suits you best, not the limitations of the technology. 
Leakproof Fittings
The pipeline materials used in the Pipebursting process have a wide variety of proven, standard fittings. These fittings may be used to reconnect your new pipe to the existing system or to lateral service lines. Either way, every connection will be made with proven, leakproof, off-the-shelf fittings.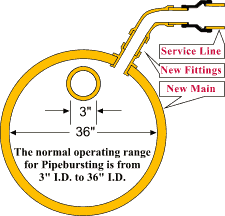 Safe Operation
Pipebursting has been used successfully in both municipal and industrial applications to replace many different types of pipelines. Gas, water, sewer, and production lines, as well as communication ducts have all been replaced with Pipebursting, even in crowded underground situations. Experience has shown that the operation of pipebursting heads does not damage other buried utilities, even when they are only a few feet away. The surrounding soil serves to absorb the vibrations created by pneumatic heads, and pipe fragments are pushed far enough away to prevent damage to the new pipe. And, since most pipelines are below the frost line, Pipebursting operations can be carried out safely at any time of the year. 
Environmentally Friendly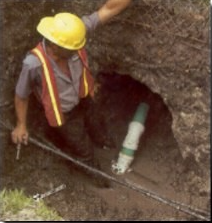 Since digging is limited to relatively small access pits, Pipebursting is much less traumatic than traditional pipeline replacement. Long sections of pipe can be replaced without introducing open trenches and heavy equipment. And, since the old pipe is left undisturbed underground, it does not present a disposal problem. 
Request a bid for our pipeline services.