Sliplining Process
Sliplining consists of lining with a continuous length of pipe. This pipe is pulled through the carrier pipe that is already in place. 
A liner is inserted within the old defective pipe and a nose cone is connected to the leading edge. This keeps it from catching on the defective pipe. The nose cone also helps connect to the winch cable. The lining can be made of polyvinyl chloride, polyethylene (PE), polypropylene, polybutylene and ductile iron. A "Lead-In" trench is almost always required to provide 
access for the liner.
The Difference
The difference with Sliplining,  as opposed to Pipebursting, is that there is no necessity to increase the size of the pipe or burst the old pipe. The new lining simply goes inside the existing, defective pipe and solves the leakage problems that have been created by age or damage. 
The pipe used for Sliplining is usually in continuous rolls or sections are welded together. All beads must be removed in order to facilitate pulling through the lining.
Advantages
The advantages of Sliplining are that a great amount of pipe can be inserted in a short period of time with a minimal amount of skilled labor. Also the previous installation of pipe is not disturbed very much. The added advantage is that there is very little excavation so that yards and streets are not damaged. 
Limitations
A possible limitation that must be considered in Sliplining is that there will be reduced flow in the new pipe. Most of the time this is not a problem, as the new pipe is likely to have a greater flow and greater integrity than the defective pipe. There also may be a necessity of some excavations on each end of the defective pipe to facilitate the addition of the lining. Certainly the water flow is going to have to be diverted during the process and great care must be given to see that the new lining is not overly disturbed during the installation process.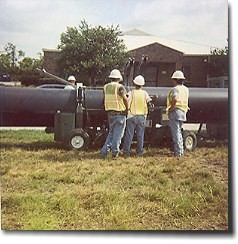 Request a bid for our pipeline services.